LO RISER EX INCLINING PLATFORM TRAILER FEATURES
Unlike other utility or tilt-type trailers, Lo Riser™ uses hydraulics to lower the deck to ground height to provide easy drive-on access. Star Trac flooring offers enhanced traction for your special deliveries. 8,100, 14,000 or 15,400 lb GVWR models available.
4 Degree Load Angle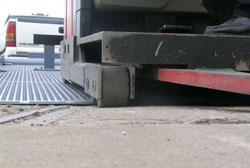 When lowered, the Lo Riser EX allows a minimum 4 degree angle ideal for low ground clearance or reduced gradeability vehicles.
4 to 1 Payload to Weight Ratio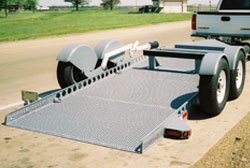 Boasting a low GVWR of 15,400 lbs and maximum payload capacity of 11,500 lbs, this trailer easily provides approximately a 4 to 1 payload to trailer weight ratio. (GVWR 14,000 lbs and maximum payload capacity of 9,500 lb on IPT4-(5.0)15EX Model and GVWR 8,100 lbs and maximum payload capacity of 5,500 lb on IPT2-(2.75)11EX Model)
Removable Brace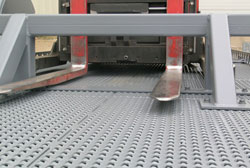 This trailer also features a removable brace for tall, unstable equipment. It also serves as an automatic placement device for a lift truck allowing for mistake free loading that also utilizes the tie-downs for maximum security.
Star Trac Flooring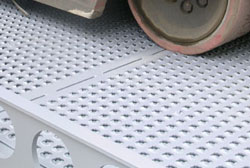 Star Trac plate flooring offers enhanced traction and gripping for your specialty equipment.
* Standard paint color is True Blue. Photos shown with any color other than True Blue are shown with an optional paint color.