LIFT-A-LOAD ELEVATING PLATFORM TRAILER FEATURES
Heavy steel welded construction with self lubricating bearings and grease fittings at all pivot points. These trailers can be customized to suit your requirements.
Welded Steel Construction
Tailgate Winch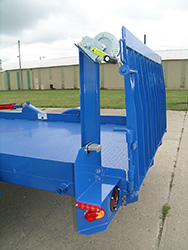 The tailgate winch is a simple but effective option to assist in raising and lowering the tailgate/ramp.
Pump cover and D.C. Electric Winch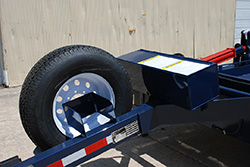 Optional pump cover secures pump and protects it from weather and debris. Optional D.C. winch lets you pull non-powered loads onto the trailer bed.
Parking Jack and Spare Tire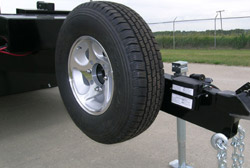 Swing down parking jack furnished on all tongue style Lift-A-Load trailers. Optional spare tire carrier and spare tire with wheel mount in an easily accessible location.
Auxiliary Battery Box
Optional Fence Package
* Standard paint color is True Blue. Photos shown with any color other than True Blue are shown with an optional paint color.