LIFT-A-LOAD ELEVATING PLATFORM TRAILER APPLICATIONS
Unlike other utility or drop deck trailers, Lift-a-Load Elevating Platform Trailers load at ground level, dock level, or any where in between. Smooth hydraulic power allows infinite bed height adjustment up to 52″.
One Person Operation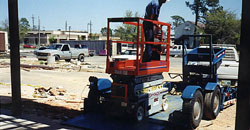 Products easily delivered to job sites by one person.
Drive-on Access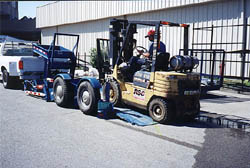 Ground level roll on loading for any products within trailer load size and weight specifications.
Bed Remains Level Throughout Loading or Unloading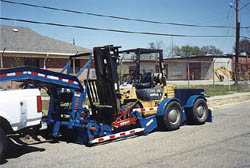 Trailer bed remains level during entire raise and lower cycle. Bed sits flat on the ground for maximum support during loading process.
Small Truck/Trailer Combination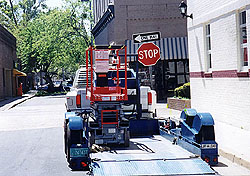 Small truck/trailer combination makes deliver to narrow inner city sites safer and less difficult for the driver.
Low Center of Gravity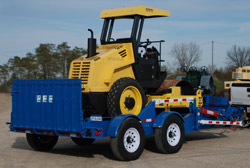 22″ Travel Height for stable, low center of gravity transport at high way speeds.
Lockout Valve Provide Added Protection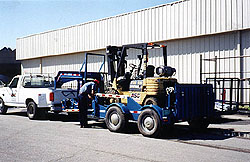 Hydraulic lockout valves and steel travel locks provide double protection from trailer lowering during transport.
Can Be Moved Lowered Close to the Ground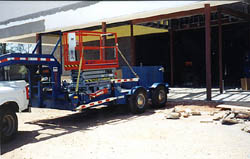 Lift-A-Load can be lowered close to the ground and carefully moved short distances to clear overhead obstacles.
Transports a Wide Range of Products or Commodities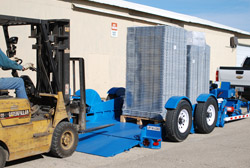 A wide variety of products and commodities are easily loaded and transported on the LIFT-A-LOAD® trailer.
* Standard paint color is True Blue. Photos shown with any color other than True Blue are shown with an optional paint color.